Looking for something to add a bit of flair to your bridal look? Ditch the classic veil and go for something different to stand out in your photos! There is a hair accessory for every bride, so find what speaks to your unique style. We were inspired by The Knot's ideas to bring you inspiration for your wedding day look:
Bright Florals:
Incorporate your wedding day florals into your look by wearing a flower crown or a floral braid! Florals add an extra bit of color to complement your makeup, stand out against your dress, and tie your look into your wedding decor!
Photo by Ashely Caroline – Brides.com
Go Vintage:
Vintage hairpins, combs, and headbands can add a touch of timeless charm to your bridal look! Rhinestones, gems, and antique metals add a one-of-a-kind, irreplaceable element to your unique bridal ensemble.
Photo from CassandraLynne.com
Boho Chic:
For the free-spirited bride, consider a boho hairpiece for a romantic, dainty, and effortless addition to your hairstyle. Head chains and hair vines are a few ways to add a subtle bohemian component to your hairdo.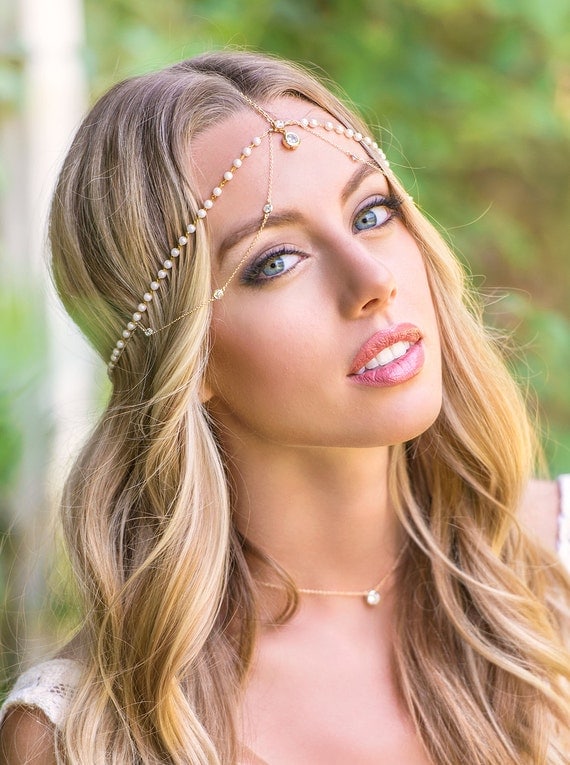 Photo by AMYOBridal – Etsy.com
Bridal Royalty:
On your wedding day, you should feel like the queen you are. Channel your inner royalty by wearing a tiara to complement your bridal look! Tiaras come in a variety of styles, colors, and shapes, so you'll be sure to find a piece that you'll treasure forever.
From Brides.com – Tiara from BHLDN
No matter what 'do you do, make it your own so that you can look and feel your best on your wedding day! Check out the rest of our blog for more inspiration.
Written by Abbey Wagner
Bridal Hair Accessory Trends